Hello there. Thank you for stopping by to visit our consultation and engagement site. We're here to tell you what's next for Liverpool Waters.
Ten years on from the approval of our Liverpool Waters Masterplan we're releasing an updated plan and want to ask you if it reflects what local people want and need for the future.


So, Liverpool Waters let's chat!
Time has moved on, and how we all live, work and socialise has changed since the outline planning was granted by Liverpool City Council (LCC) in 2013. So, we've revisited the plan to update it in line with the LCC's Local Policy Plan and other local plans and national guidance.

Please have a look through our pdf below which takes you through some boards we're presenting at our two public drop in events next week (see below). We'd love you to pop by and chat to us in person but if you can't make it please have a read and complete the online questionnaire to have your say.

Peel L&P's Liverpool Waters is an ambitious plan to transform 60 hectares of former dockland along the River Mersey into vibrant, sustainable, mixed use neighbourhoods for the city. That's around the size of 112 football pitches!
Download the Masterplan update consultation materials


Learn more about Peel L&P's ambitious plan to transform 60 hectares of former dockland along the River Mersey into vibrant, sustainable, mixed use neighbourhoods for the city.


DOWNLOAD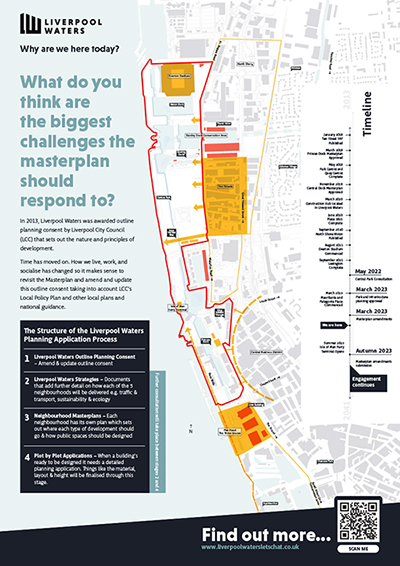 " It's a 30 minute leisurely walk from the Pier Head to Bramley Moore Stadium...20 minutes if you're in a hurry. Or you can cycle it in 10! "
It's the next phase in the evolution of Liverpool's iconic northern docklands and one of Europe's largest regeneration projects. This is a once in a generation opportunity to create neighbourhoods that offer low carbon homes, great places to work and inspiring venues and spaces to visit for leisure and events.

Last year we asked you about our plans to create a new 1.9 hectare (4.7 acres) Central Park. This was granted planning consent last month and you can see information about this and our previous consultation on the Central Park page. We're thrilled that the next stage in the journey is to update our Masterplan.


The story so far...
• Liverpool Waters £5.5bn masterplan launched in 2007.

• Princes Dock, the first neighbourhood, located next to the iconic Royal Liver Building is an established world-class business and leisure complex. Work has commenced on Patagonia Place, a new 31-storey residential development.

• Central Docks will be the beating heart of the scheme with unique business, homes, entertainment, link road and leisure spaces including Central Park which was granted permission in March this year. The new Isle of Man Ferry Terminal is nearing completion. Work has also commenced on Romal Capital's new residential scheme.

• Clarence Docks is an unrivalled waterfront setting where public spaces will be improved including restoration of heritage buildings alongside Tobacco Warehouse. The Bascule Bridge connecting Liverpool Waters to Titanic Hotel is completed and the dock is home to a variety of water sports and heritage trails.

• Northern Docks will be a truly unique diverse neighbourhood. Everton FC's new stadium at Bramley Moore Dock is on track to be ready for the 2024/25 season.

• King Edward Triangle is the link between Liverpool Waters and the city centre and business district. Work is underway to improve road and public transport access for future homes, shops and businesses.